MARC BENNETT
Marc Bennett has spent his life creating powerful images and stories in print and on film. A native of Brooklyn, New York, Bennett received his education at The Brooklyn Museum Art School, The School of Visual Arts in New York City, and Otis Parsons and Art Center in Los Angeles. He got his start designing sets for theatrical, musical and operatic productions in New York and Los Angeles, and is a two-time recipient of the Dramalogue Critics Award for Best Scenic Design.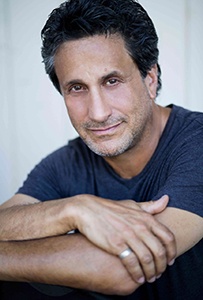 As an artist and photographer, Bennett has had his work shown in exhibitions throughout the United States, much of which is a part of many prestigious private collections. Bennett is a recipient the Art of California Magazine's "Discovery Award" and the Stamford Art Association's "Color Award," and his artwork has been used in campaigns to raise money and awareness for numerous organizations and charities such as Aids Project Los Angeles, Cancervive, The Grammys' MusiCares, Free Arts for Children, Camp Max Straus, The Boys & Girls Clubs of America, Aspen Center for Integral Health, The Simon Wiesenthal Center and the Museum of Tolerance.
Bennett's artwork is a part of the public collections of The Los Angeles Museum of the Holocaust, The Martyrs Memorial Museum / Museum of the Holocaust, The California African American Museum and the Martin Luther King Jr. Foundation.
His artwork, For Peace Sake!, was created in conjunction with R&B Live and Athletes & Entertainers for Kids after the Los Angeles riots and became part of a successful fundraising and public awareness campaign throughout the city. The piece served as a powerful reminder to maintain peace, safety and equality in our lives and raised funds for numerous organizations aiding in the revitalization on Los Angeles. The artwork was presented to Mayor Bradley in a special ceremony commemorating his outstanding work in the community.
As the co-founder of Bennett/Novak Advertising, Bennett designed and created advertising and branding campaigns for clients such as Sony Music, The New York Film Festival, Resort Theaters of America, Hilton Hotels, MTV Unplugged, VH-1, Will Smith, Halle Berry and Jennifer Lopez.
Bennett was the creative director for the music television network The Tube, and was instrumental in creating the branding of the network, as well as designing, producing, and directing many of the network's commercials and promos. While there, he also produced the documentary Bridge to Havana which followed this inspiring musical event in Cuba and was shot by Haskell Wexler and starred Gladys Knight, Bonnie Raitt, Mick Fleetwood and some of Cuba's most renowned musicians.
As a director, Bennett has helmed films, documentaries, music videos, and national commercials alike. His credits include the short films From Fairfax with Love and Mother's Day, the documentaries Life Matters, A Journey of Hope and Survival, The Day, the award winning Hot Flash Havoc and The Beach Boys 50 which stars all five of the original Beach Boys including Brian Wilson and Mike Love.
Among Bennett's many commercial credits are the spots he did for the San Francisco Museum of Modern Art, which promoted a major retrospective for artist Keith Haring and won the World Medal at the New York Festival's Television Advertising Awards.
Bennett is committed to art and film as visual languages that can entertain, inspire, educate and enlighten, as well as be vehicles for positive change and philanthropy woldwide.
Bennett is a member of the Directors Guild of America and resides in Colorado's Aspen Valley.